Taylor Academy Series and Taylor GS-Mini Bass
TAYLOR ACADEMY SERIES & GS-MINI BASS
Earlier at this year's NAMM show in California; Taylor announced their new Academy Series of affordable guitars, as well as a new addition to the GS-Mini family in the form of the GS-Mini Bass! Both the Academy Series and the GS-Mini Bass are due to land in March 2017 and are available to pre-order immediately.
The Academy Series
Taylor's new Academy Series is aimed predominantly at beginner guitarists and it is Taylor's first real foray into the entry-level market. Their aim is to provide a high-quality guitar for those starting out. Taylor's master guitar designer Andy Powers explains it perfectly as building a guitar that's "the best, for the most, with the least input".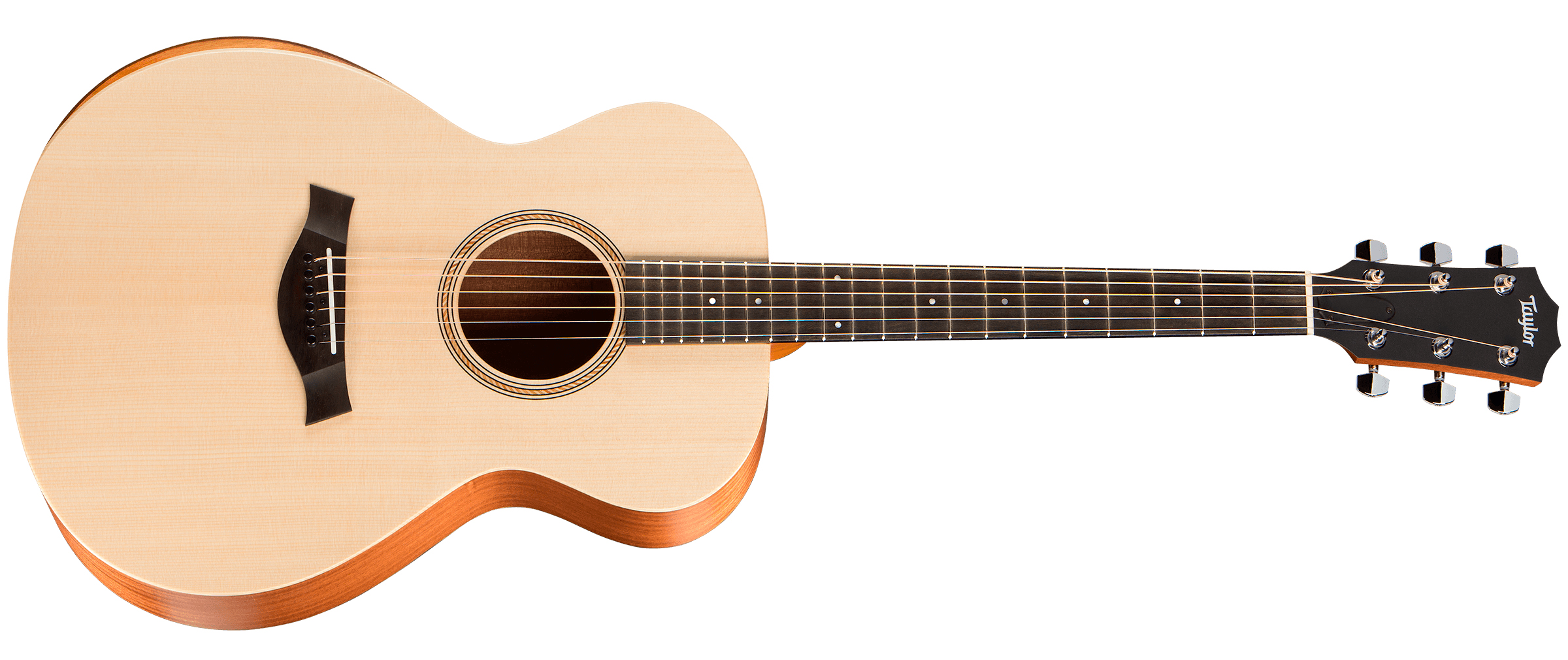 The Taylor Academy Series A12e Grand Concert Electro-Acoustic Guitar
Taylor understand that experienced guitar players are often well-equipped to navigate around a guitar's deficiencies, such as a high action, but when you are starting out you need everything on your side to help make your progression as easy as possible. They also recognise that beginners don't necessarily want to have to spend thousands to get a guitar that is extremely well built.
The innovative Academy Series features 2 main models: the Dreadnought shape A10 and the Grand Concert shaped A12. Each model is available in either right or left hand orientation, as well as with or without a pre-amp (the benefit being that with a pre-amp, the guitar can be plugged directly into a PA system or amplifier). There is also a nylon strung version of the A12 for those looking to play classical guitar.
Each guitar features layered Sapele back and sides, a Sitka Spruce top, the patented Taylor guitar neck, a mahogany armrest, a matte finish and comes packed in a solid Taylor gig bag. The electric versions are all fitted with Taylor's ES-B electronics and also feature an on board Chromatic tuner with LCD display.
It looks as though these guitars will prove to be a masterstroke from Taylor in terms of offering an affordable guitar to the majority of players. Beginners and intermediates alike will appreciate the great comfort, appealing tone and reliable performance of a quality guitar that will last for many years.
Now the GS-Mini bass looks exciting...
After years in development, the GS-Mini Bass is ready to join the rest of the GS-Mini family. Its breakthrough design means Taylor have managed to create a compact, lightweight, and portable acoustic bass. It's easy and great fun to play, and despite being originally designed with guitarists in mind, it has become a fantastic option for both guitarists and bassists looking for an instrument to have on hand when writing, demoing or jamming.
The GS-Mini Bass features all-new custom bass strings that have been designed and developed in conjunction with D'addario exclusively for the GS-Mini Bass. The strings have a nylon core, with a coated phosphor bronze wrap wire. This allows the short-scale instrument to find those low bass frequencies and produce a warm, clear tone at the same time. Considering the instrument's size, the ultra-rich, deep tone it produces is nothing short of incredible.
Taylor have also introduced a new set of patented, dual-prong bridge pins that essentially act like anchors keeping the string secure for a more gradual string bend over the saddle. This in turn optimises the overall performance of the string and its sound.
Similarly to the Academy series, the compact GS-Mini Bass features ES-B electronics, a built in tuner, Sapele back and sides, a solid Sitka Spruce top, a neat matte finish and it comes packaged in a mini bass hard bag.