Gibson USA Les Paul Classic T 2017 Green Ocean Burst
The Les Paul Classic in 2017 is a brilliant, modern take on a favourite from the 60s or 70s, striking the perfect balance between vintage styling and contemporary features. Sticking with the tried and tested Gibson formula, the LP Classic has a mahogany body and neck with a Grade-A maple top. It also features Gibson's new ultra-modern weight relief, and what a relief it is! The sustain is there in bags and the zebra 57 classic humbuckers suck the best, PAF-like tone from the guitar. What's not to like?
0% Finance Available on This Product
Buy this Gibson USA Les Paul Classic T 2017 Green Ocean Burst
from only a month +10% deposit of (Ex Delivery).
Product Specification:
Gibson USA Les Paul Classic T 2017 Green Ocean Burst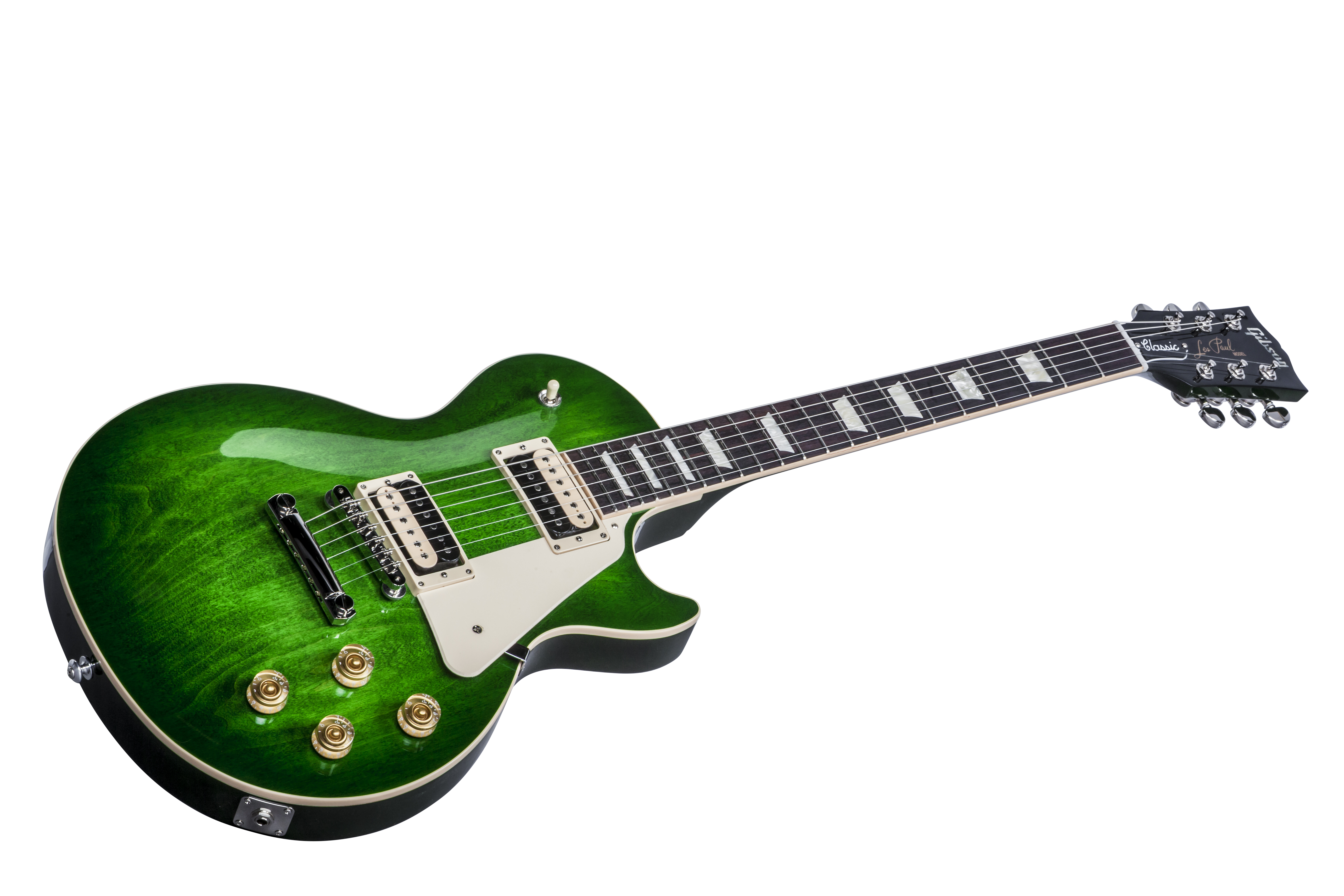 A Modern Take on a 60s Les Paul
The Les Paul Classic 2017 T riffs on the beloved guitars of the '60s and '70s while adding modern upgrades for tone and playability, yielding a true Classic with contemporary twists. A Grade-A plain maple top on a mahogany back with 9-hole weight relief combine for subtle beauty with enhanced resonance and superb playing comfort. The solid-mahogany neck has a fast slim-taper profile, a thicker rosewood fingerboard with 22 super-smooth polished frets for easy bends, and a genuine nylon nut. Zebra '57 Classic humbuckers with orange drop tone caps ensure sultry PAF-like voicings, while a nickel wired ABR bridge and aluminum stopbar combine for solid sustain. Gibson USA gently rolls the fingerboard binding for a neck that never felt so good, and Grover locking kidney tuners provide an accurate and long-lasting performance. Gold speed knobs add an elegant touch. Delivered in a classic Gibson brown hardshell case with a Gibson multi-tool, a premium leather strap, and a polishing cloth.
Details
Body and Neck
A-grade maple top and mahogany body with 9-hole weight relief. Slim taper mahogany neck with rosewood fingerboard. Nylon nut. Polished 0.55 frets with rolled binding over the frets.
Pickups and Electronics
Zebra '57 Classic and Classic +. Hand-wired with orange drop capacitors. 2 volumes, 2 tones, 1 toggle.
Hardware
Nickel plating. Wired ABR. Aluminum Stop Bar. Grover locking kidney tuners. Gold speed knobs
Protective Case
Classic Gibson brown hardshell case
Additional Specs
Premium leather strap, Gibson multi-tool, polishing cloth
Specifications
Series: Core T
Body Style: Les Paul Classic
Back: Mahogany
Top: A-grade plain maple
Weight relief: 9 hole
Binding: Cream
Neck: Mahogany
Neck profile: Slim taper
Neck width: 1.695"
Heel: Traditional
Fingerboard: Rosewood
Scale length: 24.75
Number of frets: 22
Nut: Nylon
Inlay: Acrylic Trapezoids
Binding: Cream
Binding Style: Rolled binding over frets
Bridge: Wired ABR
Tailpiece: Aluminum Stop Bar with steel posts
Knobs: Gold speed knobs
Tuners: Grover locking kidneys
Plating: Nickel
Neck pickup: Zebra '57 Classic
Bridge pickup: Zebra '57 Classic +
Other pickup: N/A
Controls: 2 volumes, 2 tones, 1 toggle. Hand-wired with orange drop capacitors
Finishes available: Heritage Cherry Sunburst, Gold Top, Green Ocean Burst
Case: Classic Gibson hardshell case
Trustpilot Reviews. Verified reviews from real customers

We use reviews from registered customers who have bought products from us, so you can be 100% sure that the review you read is genuine. These reviews are all monitored by our independent review partner - Trustpilot.
You will need to be logged in and have purchased the item from us to leave a review.
Be the first Log In to Write a review for the Gibson USA Les Paul Classic T 2017 Green Ocean Burst here!