Fender American Professional Series Guitars
NEW

FENDER AMERICAN PROFESSIONAL RANGE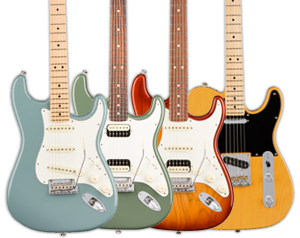 The American Standard range of electric guitars from Fender has been a mainstay of their offering for years now, and popular amongst guitarists around the world, however the time has come for Fender to start the next chapter as they continue to push their already stunningly-high levels of craftsmanship to the next level.

Their new American Pro range, which places itself just below their cherished American Elite group of guitars, is set to replace the American Standard, and aimed at serious players looking to get even more from a modern instrument.
Main Talking Points
New Pickups: As a guitarist you will know how important the pickups are in your instrument and the amount of character the contribute to its overall voice. The American Pro series features a new pickup setup from Fender: V-Mod single-coil pickups. These are updated versions of their classic designs that have been tweaked to suit modern use, but are still packed full of classic Fender tone. Their voice specifically in each position to help every nuance of your playing shine through.
New Models: Fender have added three new models to their American Professional Series: the Tele Deluxe, Jazzmaster and Jaguar guitars. We're particularly excited to get our hands on the latter two; they've got a unique style - a certain allure, if you will - thanks to their individual feel, interesting design and flexible control options.
Different Finishes: Three brand new finishes are welcomed too; Sonic Gray, Mystic Seafoam, and Antique Olive, which are joined by old favourite Butterscotch Blonde on the Telecaster models, too!
Landing Soon & Available to Pre-Order Now:We have many of these guitars on the way to us from Fender already and we expect them to be landing into our store towards the end of the first week in December 2016, available to try and buy. All models are available to pre-order now!

The Fender American Professional Stratocaster - Maple Neck - Sonic Grey